Two-time boxing world champion Paulie Malignaggi (36-8, 7 KO's) has come out of retirement to sign with newly formed promotion, Bare Knuckle FC. The promotion seeks to expand the art of bare knuckle fighting, and is the first promotion to hold legal and sanctioned bare knuckle events in the United States since 1889.
Bare Knuckle FC has become an option for many fighters of different disciplines. MMA fighters, Muay Thai fighters, kick boxers, and of course boxers who have fought professionally are welcomed in the promotion. The biggest difference of course, is the fact that all fighters participating in the events must compete bare knuckle. There are no gloves allowed, and if a fighter uses wraps, they must be at least an inch away from the knuckles.
Former UFC fighters such as Beck Rawlings and Artem Lobov as well as other MMA veterans like Chris Leben have signed to the promotion. No notable boxer has signed with the promotion until now. Bare Knuckle FC has snagged former two time welterweight world champion Paulie Malignaggi (rtd.), and the 38-year-old Italian has wasted no time in calling people out.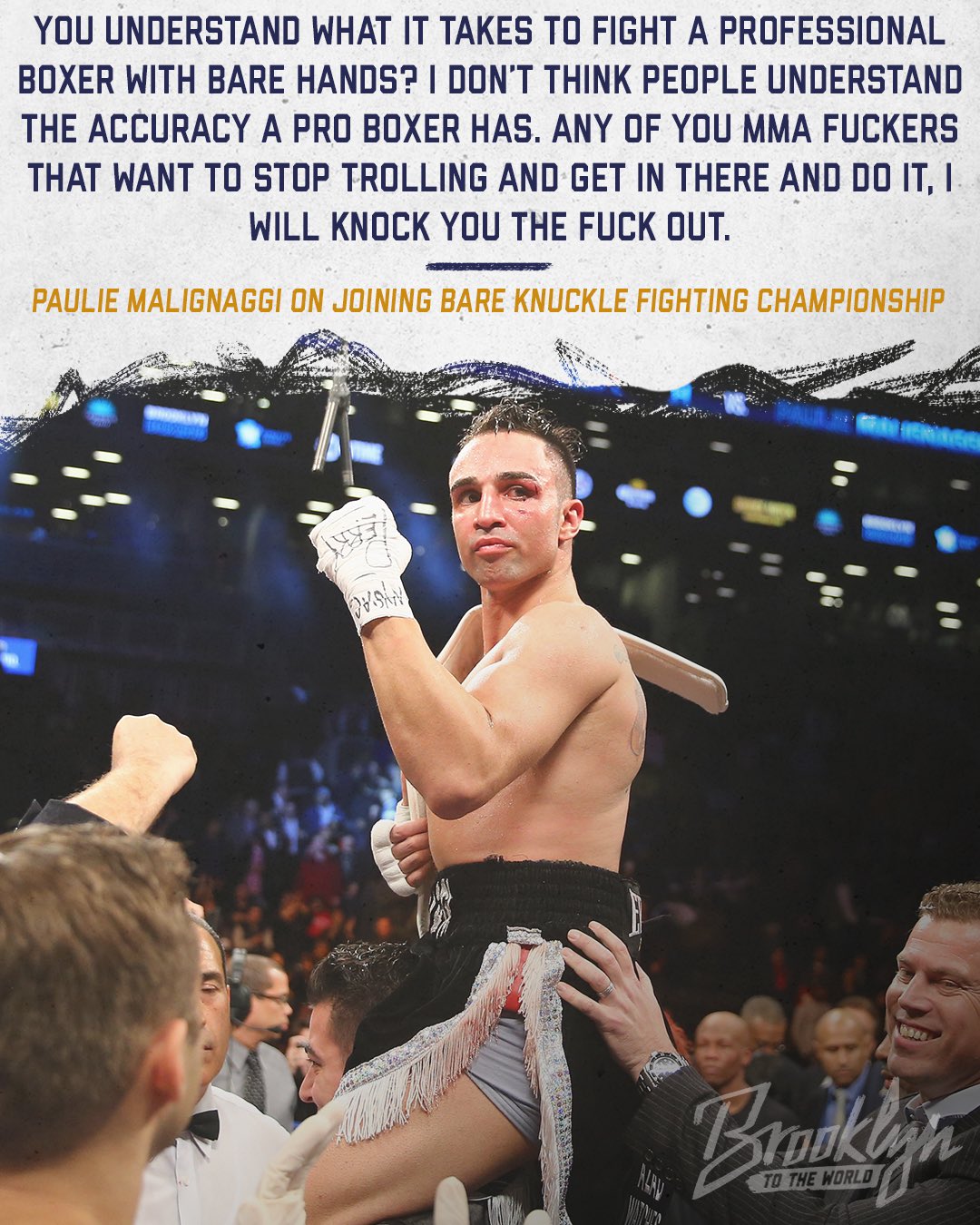 Paulie Malignaggi's beef with several MMA fighters stems back to 2017 when he was brought in to prepare Conor McGregor for his fight against Floyd Mayweather Jr. He agreed to be a sparring partner during McGregor's fight camp. What seemed to be a regular deal between two fighters, turned out to be boxing's version of Gossip Girl when pictures of the McGregor-Malignaggi sparring matches were leaked. All of the pictures showed Mcgregor getting the better of a bruised up Paulie.
Even a short video surfaced, where Mcgregor hit Paulie with a straight left before Paulie tumbled into the ropes. These pictures and videos quickly had the combat sports world talking and many wondered if Conor could actually trouble Mayweather. Malignaggi, of course, wasted no time in defending himself in front of the media. He claimed that he had been set up during the sparring sessions. While he had expected to spar six or so rounds, team McGregor had him spar all 12 rounds. He also claimed that he had actually gotten the better of McGregor throughout the sparring sessions, but that Conor's personal photographers had taken the pictures to make him look good. The sparring session videos had been tampered with to make it seem like Conor had put a beating on him.
Since then, both fighters have taken shots at each other through social media. And Malignaggi wasted no time in calling out Conor to a bare knuckle fight with his newly signed promotion.
While this fight could seem like a pipe dream, it's actually more possible than people realize. McGregor's teammate, Artem Lobov, has also recently signed a deal with Bare Knuckle FC. Both Lobov and Malignaggi fight in the same weight class, and it is no secret that the promotion is seeking to match them up should they win their respective fights. It is widely expected that Malignaggi would outclass Lobov, even with the lack of gloves. But what happens then? A Malignaggi win would set up a McGregor fight on a silver platter. There have always been rumors about a potential fight between the two and it would make all the sense in the world for all parties involved. Both Malignaggi and McGregor would undoubtedly make a large chunk of change. Bare Knuckle FC would bring millions of eyeballs to their sport, which could potentially set them up from that point forward. Of course, McGregor is under contract with the UFC, but that hasn't stopped them from doing business with other promotion companies for the sake of a pay day.
And how would a McGregor-Malignaggi fight go? That depends on who you ask. The boxing crowd will point to Malignaggi's boxing credentials and experience. Bare Knuckle FC is after all, bare knuckle boxing. The MMA crowd will point to McGregor's experience with vastly smaller gloves (MMA gloves are 4 oz), naturally larger stature, and superior punching power. These questions and debates are why precisely the fight would garner so much buzz. We just have to wait and see if gets made.
For more on this story, boxing news and analysis follow Eightcount.tv on Facebook, Instagram and Twitter.